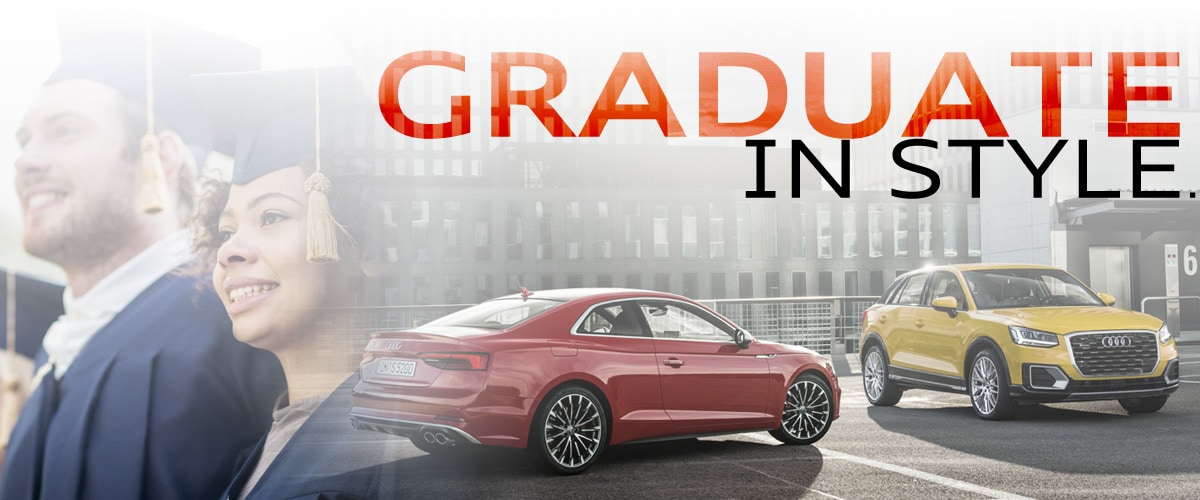 The College Graduate Program with Audi Chattanooga
---
---
Exclusively from Audi Finaincial Services
Are you a recent college graduate? Then congratulations on reaching this exciting milestone! As you look to continue moving forward with your next steps in life, remember to enjoy the journey. You have worked hard to get here, and Audi Chattanooga wants to help you begin your next adventure.  

Audi represents hard word and determination. It's the perfect vehicle to help you reach your next goal, and even the ones after that. Our College Graduate Program is designed to help qualified customers lease or finance a new or Certified Pre-Owned Audi, so you can take on the real world in style.
---
Program Details
When you lease or finance through Audi Financial Services, you benefit from:

No security deposit on a new lease.
No credit history required (if you have existing credit, it must be in good standing).
Competitive rates even if you have no credit.
No co-signer required.
---
How Do I Qualify?
First, you will need to meet these requirements:

You graduated in the past 24 months, or will graduate in the next six months from a 2 or 4 year accredited U.S. or Canadian college or university.
You have a full-time job, or you have a written commitment from a future employer.
You are a U.S. Citizen or permanent resident of the United States.   
---
What do I need to bring to the dealership?   
When it's time to visit Audi Chattanooga, come prepared with the following documents:

Your valid driver's license.
Proof of insurance and agent contact information.
A copy of your degree or transcript and contact information for your college or university.   
A copy of proof of income and full-time employment as well as contact information for a human resources or payroll representative.
Contact information for two personal references who reside in the United States.
---
  Which road will you take?   
Freedom means different things to different people. So when you are deciding whether to lease or finance, it is important to consider your individual lifestyle and preferences.   


Lease
Drive a new Audi for a set amount of time and number of miles. Then, choose to purchase or return your vehicle at the end of your term.
May provide lower monthly payments on average than financing over a similar term on the latest models.
Flexible lease terms and a range of mileage options available.   
Ability to turn in your vehicle for a newer Audi model, or buy your vehicle at a predetermined price at lease maturity.   
Purchase
Purchase your vehicle and make payments for it over a selected term. At the end of that term, the car is yours.
Ability to own for life of the vehicle and build equity.
No end-of-lease obligations, such as excess wear and tear.   
No vehicle customization limits or mileage restrictions.
Competitive rates and flexible terms available.
---
VW Credit, Inc. (dba Audi Financial Services) is a servicer for VW Credit Leasing, Ltd. and VCI Loan Services, LLC. Audi Financial Services believes the information in this brochure to be correct at the time of printing. "Audi," "Audi Financial Services," and the four rings logo are registered trademarks of Audi AG. © 2019 VW Credit, Inc. All rights reserved.